About Kinzie Hotel
Learn About Our Pet-Friendly Amenities
At Kinzie Hotel, we get it. That's why we take the time to deliver an inspired, truly unique, and decidedly Chicago travel experience. Located in the epicenter of the city's vibrant River North neighborhood, Kinzie Hotel personifies Chicago's friendly, relaxed aura. From the original artwork that greets you in our hotel lobby to our helpful and intelligent staff to our effortlessly upscale guest rooms, our boutique Chicago hotel provides the thoughtfully-curated amenities you expect and deserve from River North's premier boutique hotel. Explore everything we have to offer, take a look at our comfortable guest rooms, and see why Chicago starts here.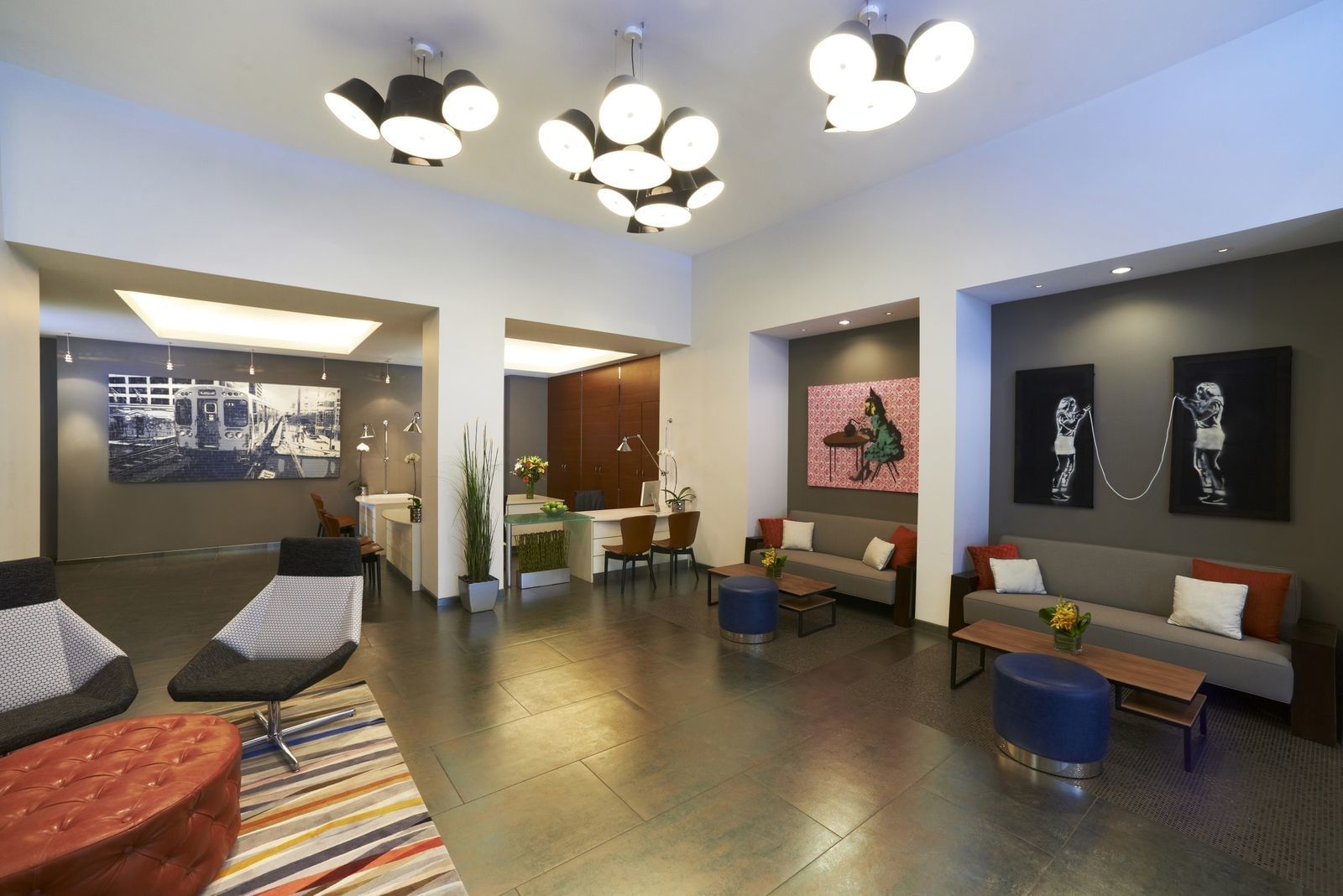 Boutique Accommodations
From the historic city maps that adorn our guest room walls to our cobblestone-inspired carpeting to the amazing skyline views out our windows, Kinzie Hotel goes above and beyond to deliver the quintessential Chicago experience. Featuring contemporary, boutique accommodations and thoughtfully-curated amenities, our inviting, upscale hotel embodies the body, playful, and distinctly Chicago aesthetic of River North.
Explore our boutique Chicago accommodations to see what makes Kinzie Hotel River North's most unique place to stay.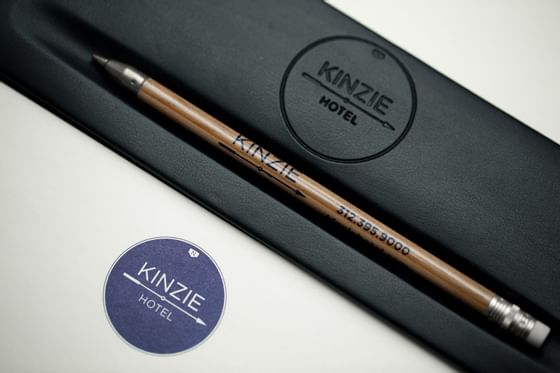 We Get It
You want to make your trip to Chicago one for the ages. Put simply, we get it - which is why the Kinzie Hotel team will go above and beyond to give you the ultimate Chicago experience.
Think of our front office team as your personal concierge staff, ready to assist you with your special plans for a truly unforgettable stay. We understand the importance of making the most out of your trip and are would love to arrange for flowers, balloons, strawberries, specialty chocolates, champagne, CTA El & bus passes, CityPASSes, spa appointments, or dinner reservations for your stay.
We're here to help you out, 24/7. Shoot us a message, drop us a line or give us a call with any questions or requests as you plan your unforgettable Chicago adventure.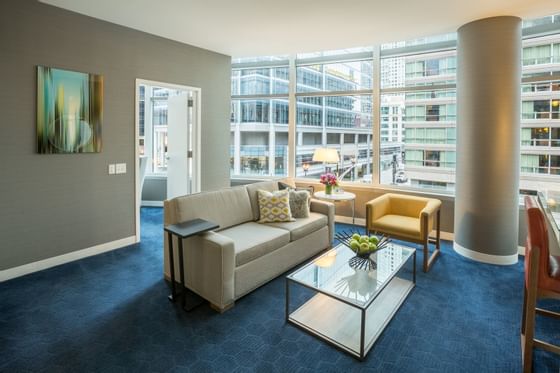 Unbeatable Amenities
At Kinzie Hotel, we take service seriously, and go above and beyond to deliver River North's most welcoming Chicago travel experience. To accomplish this, we charge a nightly service fee of $14.95 (plus any applicable sales tax) when booked direct, which helps to cover some pretty awesome amenities:
• Continental Breakfast Served Daily
• High Speed Wi-Fi Access for Unlimited Devices
• Evening Reception with Beer, Wine, and an Assortment of Salty and Sweet Bar Snacks
• 24-Hour Access to our Business Center and Fitness Center
• Upgraded HDTV Cable Package
• In-Room Amenities Like Local Coffee, PURE Bath Products, and More
Unbeatable River North Location
There's always time to add some fun and urban exploration to a busy visit to Chicago. Located in the heart of downtown Chicago, Kinzie Hotel puts your guest front and center for the city's best dining and most iconic attractions. Whether your guests are spending their days at McCormick Place or celebrating wedding festivities at a nearby venue, they'll love the opportunity to enjoy an amazing meal in River North or duck into one of the city's hippest bars for a quick drink.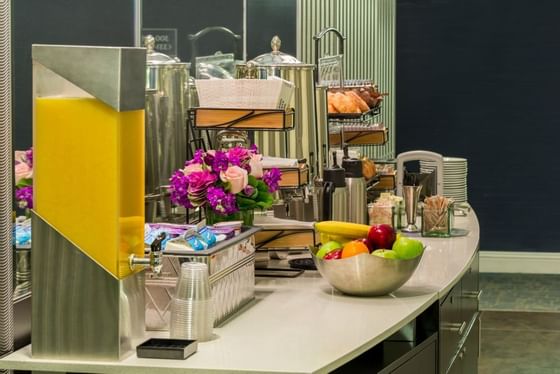 Deluxe Continental Breakfast
Whether you're embarking upon a sightseeing adventure, attending meetings at Merchandise Mart, or taking a foodie tour of the city, a good breakfast lays the foundation for a great time in Chicago. At Kinzie Hotel, we offer a daily, deluxe continental breakfast on the sixth-floor lounge to get your ready for another amazing day in the Windy City.
Each morning, wake up to the smell of freshly-brewed, locally-roasted coffee, put on your robe and slippers, and enjoy a fine assortment of chilled juices, pastries, cereal, yogurt, and fresh fruit— all just an elevator ride away.
BREAKFAST HOURS
• Monday - Friday: 6:30 a.m. to 9:30 a.m.
• Saturday - Sunday: 7:00 a.m. to 10:30 a.m.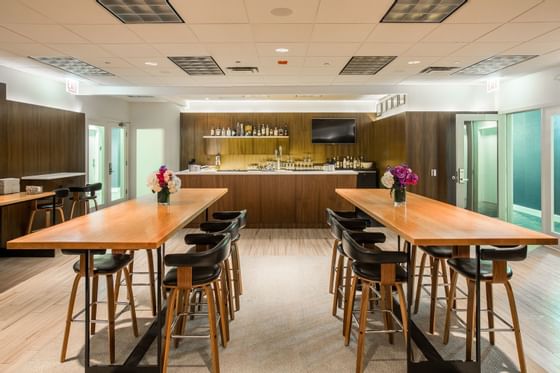 Double Cross Lounge
Named in honor of John Kinzie, the Double Cross Lounge is the perfect place to relax after a busy day of exploring, meeting, or sightseeing in Chicago. With locally brewed craft beer, wine, and light snacks from 5:00 p.m. to 7:00 p.m., the Double Cross Lounge provides a welcoming atmosphere where you can mingle with fellow guests or just sit back, unwind, and indulge.
Head up to the sixth floor, grab a drink, and plan the first move of your epic evening. Your night on the town starts at the Double Cross Lounge.
RECEPTION HOURS
• Daily: 5 p.m. to 7 p.m. Complimentary for hotel guests.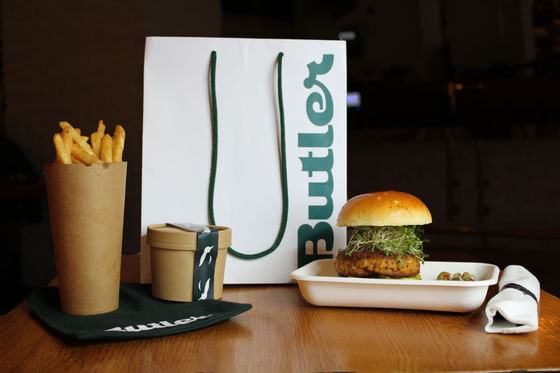 Not Your typical Room Service
Room service can be bland, mushy, and boring. We get it. To deliver an inspired in-room dining experience, we've partnered with our neighbors at Butler Hospitality to provide a unique and inspired menu that is delivered right to you door - no service fee, no minimum and no delvery fee.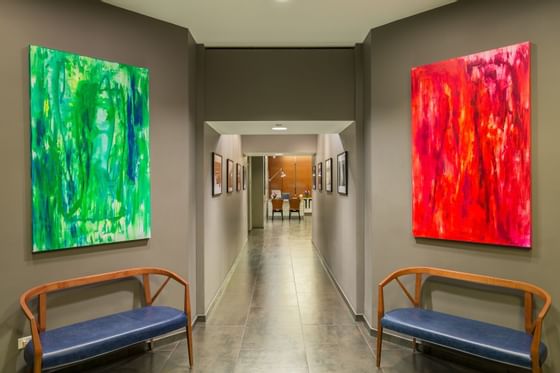 Our Virtual Concierge (aka The Selfie Screen)
Don't miss our virtual, touch-screen concierge, located across from the elevator on the ground floor of our hotel. Click around, check the weather, get updates on your flight status, and, of course, take a Kinzie Hotel selfie!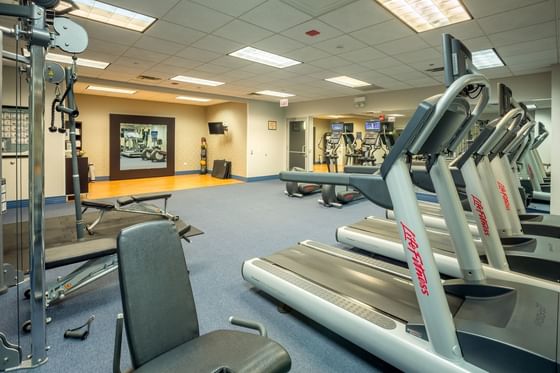 Our River North Gym
Just because you're traveling, doesn't mean you have to stray from your routine. During your stay, work off that Au Cheval Burger, impulse stops at Firecake Donuts, and session at Goose Island on our top-notch cardio equipment.
Located on the fifth floor of Kinzie Hotel, our recently-renovated, 24-hours fitness center includes:
• LifeFitness Cardio Machines with LCD Screens
• New Strength Training and Pilates Equipment
• Free Weights
• Medicine Balls
• Yoga Mats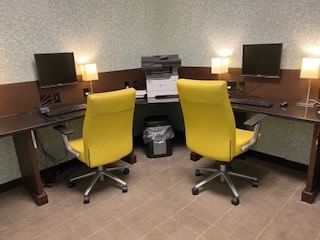 On-Site Business Center
Located on the fourth floor, our 24-hour business center provides a quick and convenient place to print your boarding passes, take care of some last minute business, or stay connected in the event your device gives you grief. Our on-site business center includes:
• Three PCs
• Password-Secured Printing Services from Your Guest Room
• Fax and Photocopy Assistance from Our Front Office
• The First Ten Photocopies are Free, and Each Additional Page Costs 10 Cents
• The First Five Pages of Your Fax (sending or receiving) are Free, and Each Additional Page Costs $1.00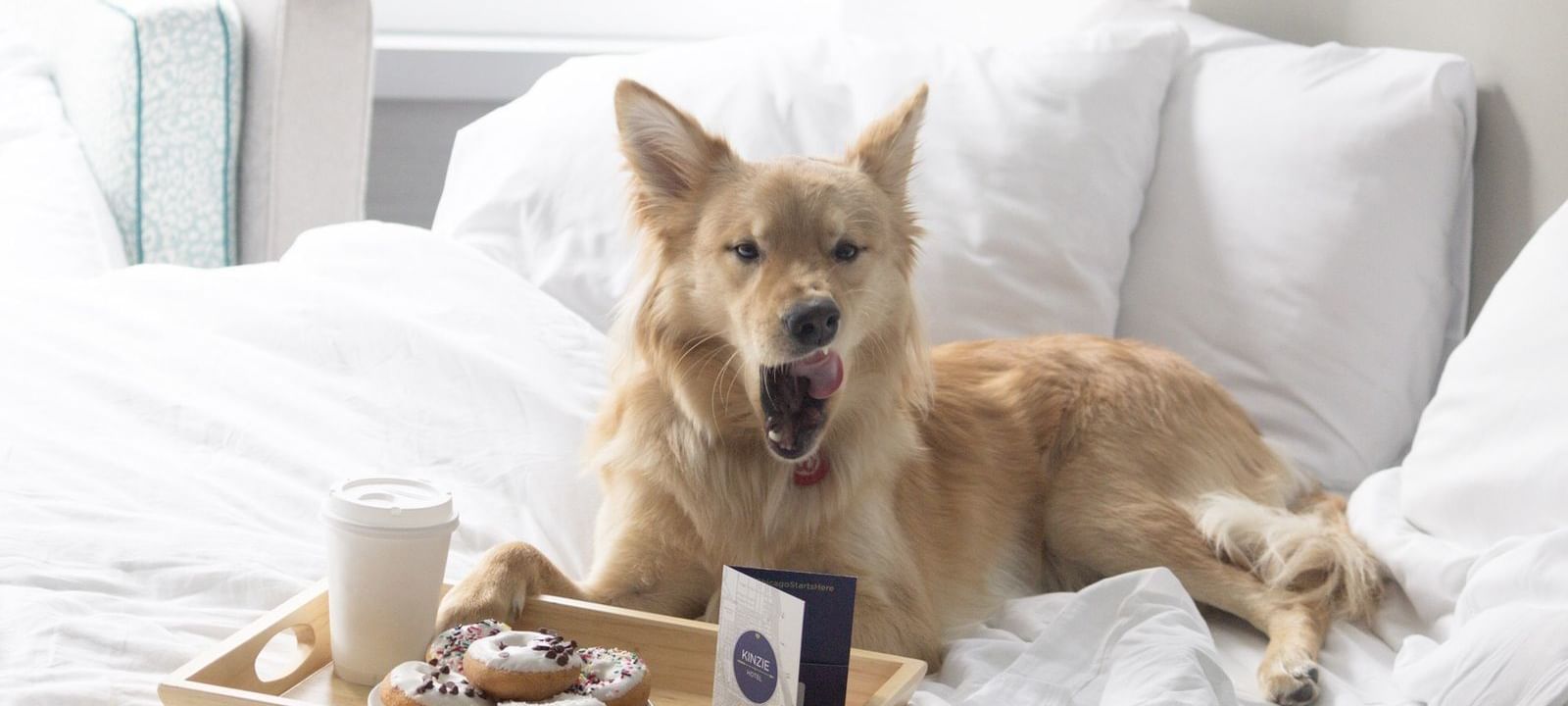 Chicago Pet Friendly Amenities
We gladly welcome you to bring your four legged friend during your upcoming stay at Kinzie Hotel. In fact, we absolutely love meeting your good puppers and will have treats for them upon your arrival! We also offer special amenities to all dogs and cats that stay with us.
We do limit to two-pets per room and charge a $50.00, nonrefundable pet fee per stay to cover additional cleaning and sanitizing after departure.
Getting Here and Parking while you are here
Kinzie Hotel is located in Chicago's vibrant River North neighborhood and is easily accessible by car and all CTA El lines. For guests driving into Chicago, Kinzie hotel is a half-mile from the Kennedy Expressway (I-90/94) and a mile from Lake Shore Drive.
Parking Option: Valet Parking: $71.00 per Night added to your hotel bill. 24 hours with in/out priviledges Self Park: SpotHero offers many self park options in the neighborhood. Spothero Parking Link
Getting here from the O'Hare and Midway Airports is also a breeze. Your guests can call Ubers, Lyfts, or taxis, and the El will bring guests within three blocks of Kinzie Hotel.
Travel Time from O'Hare: 45 Minutes via the Blue Line, 30 to 60 Minutes Driving
Taxi/Rideshare Fare from O'Hare: $30.00 to $50.00
Travel Time from Midway: 40 Minutes via the Orange Line, 25 to 60 Minutes Driving
Taxi/Rideshare Fare from Midway: $20.00 to $40.00
Read More
Lost & Found
Things get lost. We get it. That's why we have an easy-to-use lost & found system to help you recover any items that might have run away during your stay at Kinzie Hotel. Just fill out our simple left & found form, and we'll let you know if your belongings turn up!
Hotel Policies
Check-In: 3:00 p.m. | Check-Out: 12:00 p.m. | Smoking Policy: 100% Smoke-Free
Pet Policy: We Welcome Pets with Open Arms!
Guests must be 21 years of age to check in and present a major credit card on arrival.
$100 per night credit card authorization is required at check in at the Kinzie Hotel.