Room Service Reinvented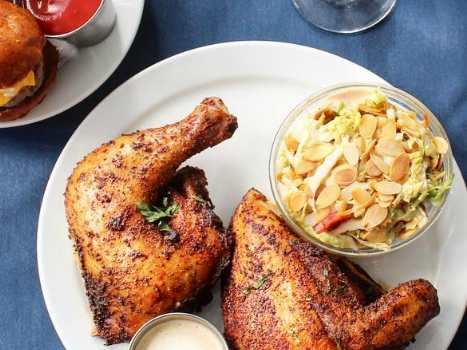 Room service has a historically poor reputation for being bland, boring, and uninspired. We get it, and you deserve something better. Much better.
To deliver a unique, creative, and distinctly Chicago in-room dining experience, Kinzie Hotel has partnered with Public House, River North's premier, upscale gastropub. Expect carefully-plated, inventive, and elevated takes on comfort classics any time of the day. Think short rib mac and cheese, homemade sliders, charred bacon brussels sprouts, and fried cheese curds. Perfect for a convenient workday lunch or a much needed late-night snack, the Public House's elevated room service options bring Chicago's acclaimed restaurant scene to your door.
To place a room service, just dial "0" on your room phone. Please note that all room service orders will be charged to your room and include a $3.50 delivery fee, a 20% service charge, and current sales taxes.
Regular Menu Hours
Monday - Thursday: 11:30 a.m. - 10:00 p.m.
Friday: 11:30 a.m. - 11:00 p.m.
Saturday: 3:00 p.m. - 11:00 p.m.
Sunday: 3:00 p.m. - 10:00 p.m.
Finding yourself with some late night cravings? We get it. Our late night menu will hit the spot after an epic night of River North bar hopping. Just dial "0" on your room phone to place your order, and your fried goodies will be on their way in no time.
Late Night Menu Hours
Sunday - Thursday: 10:00 p.m. - 1:30 a.m.
Friday: 11:00 p.m. - 1:30 a.m.
Saturday: 11:00 p.m. - 2:30 a.m.